Bangla School Toronto celebrated Victory Day of Bangladesh with art competition and workshop on "Good parenting" on 16th December 2018 in Dentonia Club House from 10am to 4pm. 
Day started with kids "art" competition on "Banglar Bijoy" followed by workshop on "Good Parenting", then cultural performances by youth and children. At the end designated guests and board members distributed certificate of participation among all participants, prizes for the winners and volunteer recognition.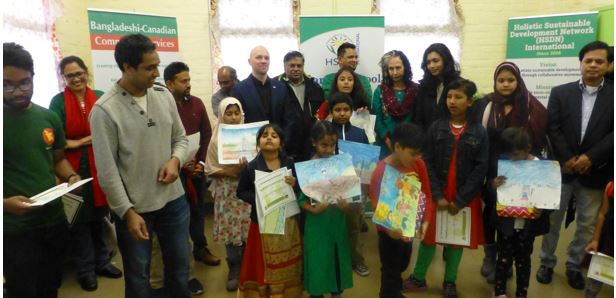 The children art competition was so lively that all the parents were happy and took picture. 44 children have participated in the art competition while 6 participants from two groups (group-1 till grade 4 and group-2 till grade 8) has been selected for prizes and everybody got the certificate from special guests' hands.
Abdul Halim Miah, Adviser of Bangla School for facilitating the discussion on "Good Parenting". The parents and children participated in open discussion and sharing experiences and examples. The discussions were interactive and has given a common ground to agree on organizing more community event where both children and parents can participate. Speakers and discussants appraised the HSDN initiative of Bangla School which could be a undebatable common ground for Bengali community.

All audiences paid homage to the national martyrs and freedom fighters with National Anthem.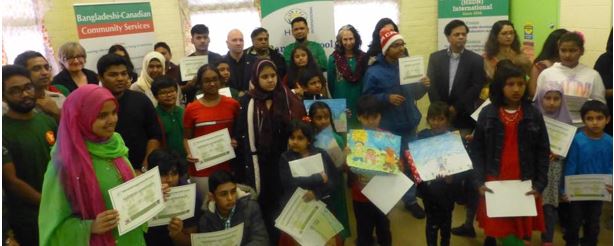 A big thank to our youth volunteer team and the leader Hassana Karim for organising all youth volunteer and support in each steps of activities. We appreciate our guests MPP Rima Berns McGown, MPP Doly Begum, Councillor Bradford, and representative of MP Nathaniel office Mr Saki. The event was chaired by Dr. Nasima Akter, Executive Director of BCS and Chair of HSDN Int. and welcomed by HSDN Int. secretary Fakhruddin Ahmed. The Executive Director of HSDN Mr. Jannatul Islam thanked everyone in his closing speech while all board members attended with guests in prize and certificate given ceremony.
The event was mentored HSDN international and partnered by Bangladeshi-Canadian Community Services (BCS), and TBPAC. This event was funded by City Of Toronto Neighborhood Grant.
Comments
comments